Wheels & Whales - Bikepacking and Whale Watching in the Shetland Isles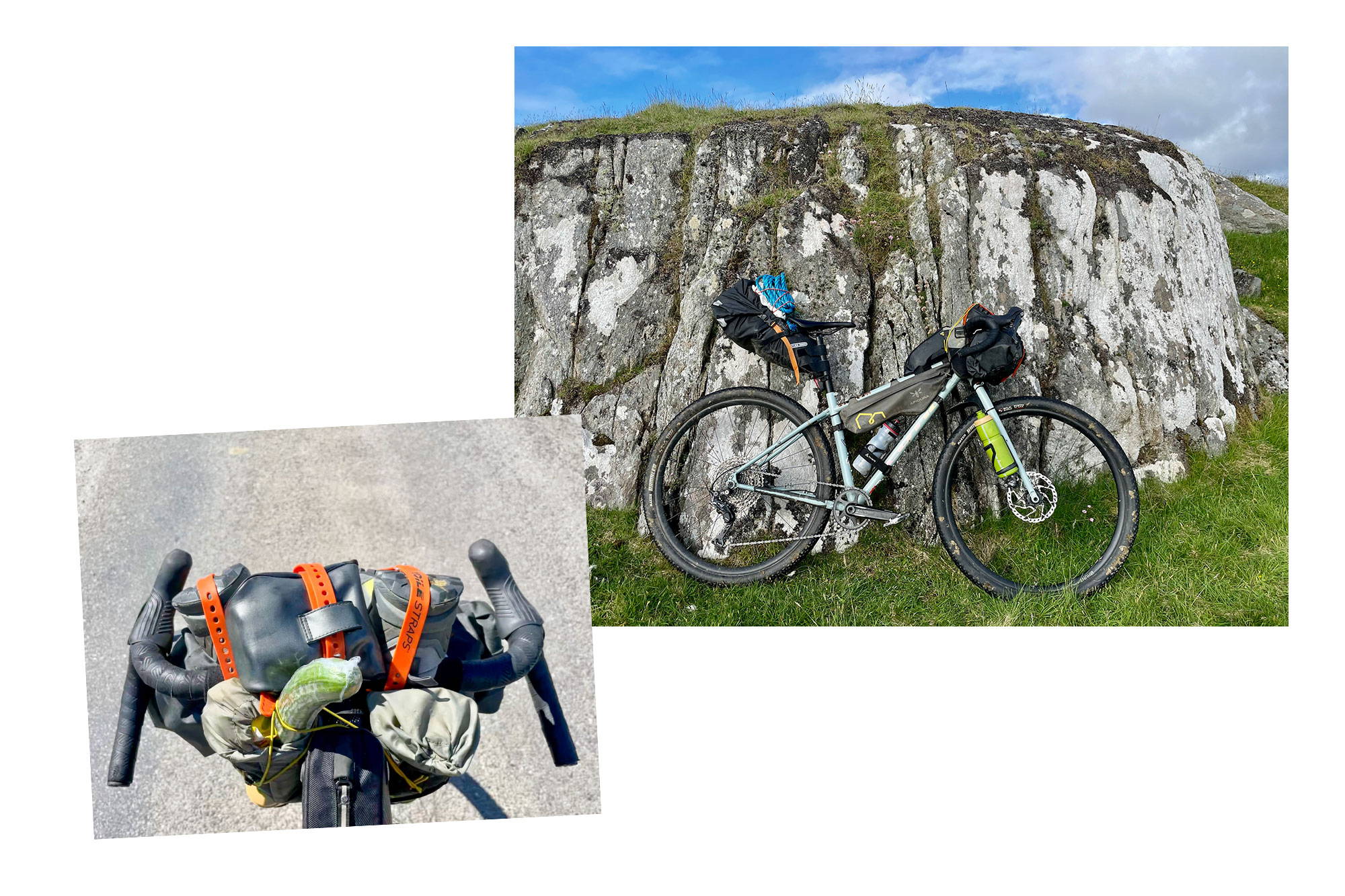 Beginning the journey into higher latitudes, I reflected on my history with the Northern Isles. Almost a year ago to the day, I had embarked on a very similar trip, realising my dream of combining two of my greatest, yet seemingly contrasting, passions – cycling and marine biology. With little plan other than to spend as much time with my eyes on the ocean and my feet on the pedals, last year's trip certainly had some highs and lows. I had memorable encounters with orca (a species that has captivated my interest for as long as I can remember), in addition to humpback and minke whales, proving to myself that from-the-saddle whale watching wasn't as far-fetched an idea as it sounded when I first conceived it. However, a lapse in attention when searching for a camp spot resulted in an over-the-bars crash and a surprising failure to the frame of my gravel bike! Subsequently, the final few days of the trip were primarily spent on foot, hiking the 70-something miles back to the ferry terminal in Lerwick and cutting short my exploration of the Shetland mainland, but simultaneously stoking a fire to return to the islands to pick up where I had left off.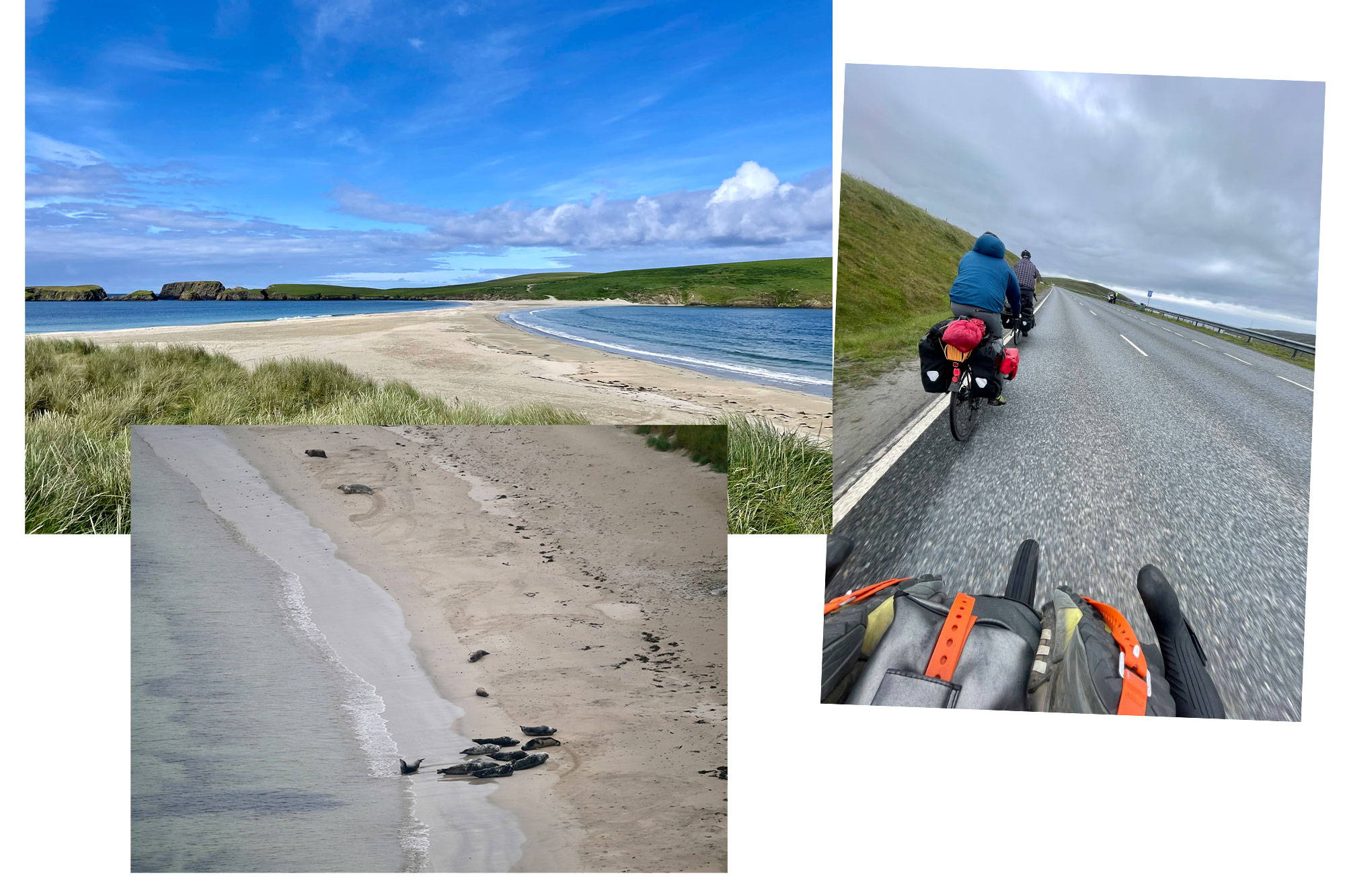 Those experiences have subsequently had a lasting impact on how I view the natural world and my role within it. Whereas other, more conventionally impressive and dramatic landscapes have in the past left me with a feeling of longing upon returning home, the subtlety of Shetland's natural beauty, and the unsuspecting array of wildlife that can be seen there, imparted me with a lasting sense of humility and hope. Despite the challenges faced by nature in this part of the world, these isles are still full of life. Since last year, a curiosity, joy and drive to be immersed in, and play my part in conserving nature has flourished. It's safe to say that I was excited about returning!
Arriving in Aberdeen after a night on the Caledonian Sleeper, I headed to Torry Battery. Known as one of Europe's most reliable locations to see bottlenose dolphins from the shoreline, I had high hopes. Before my wheels had even stopped spinning as I rolled through the port and down to the beach, I see a fin, and then another. A large animal breaches clear of the grey waters on this otherwise dreich Scottish morning! For the next hour, I watch as a pod of 12 or so dolphins feed and display their impressive acrobatics at the Aber-of-the-Dee. Wheels and Whales '23 is off to a flying start! On the ferry north, I replay images of this sighting in my mind's eye. I've always struggled to articulate quite why cetaceans – the sub-order of whales, dolphins and porpoises – have captivated me in such a vivid way. Seeing their dramatic surface displays, a collective effervescence of sorts, reminds me of the beauty and power of the natural world, but also acts as a visual barometer for the health of ecosystems in which they play key roles.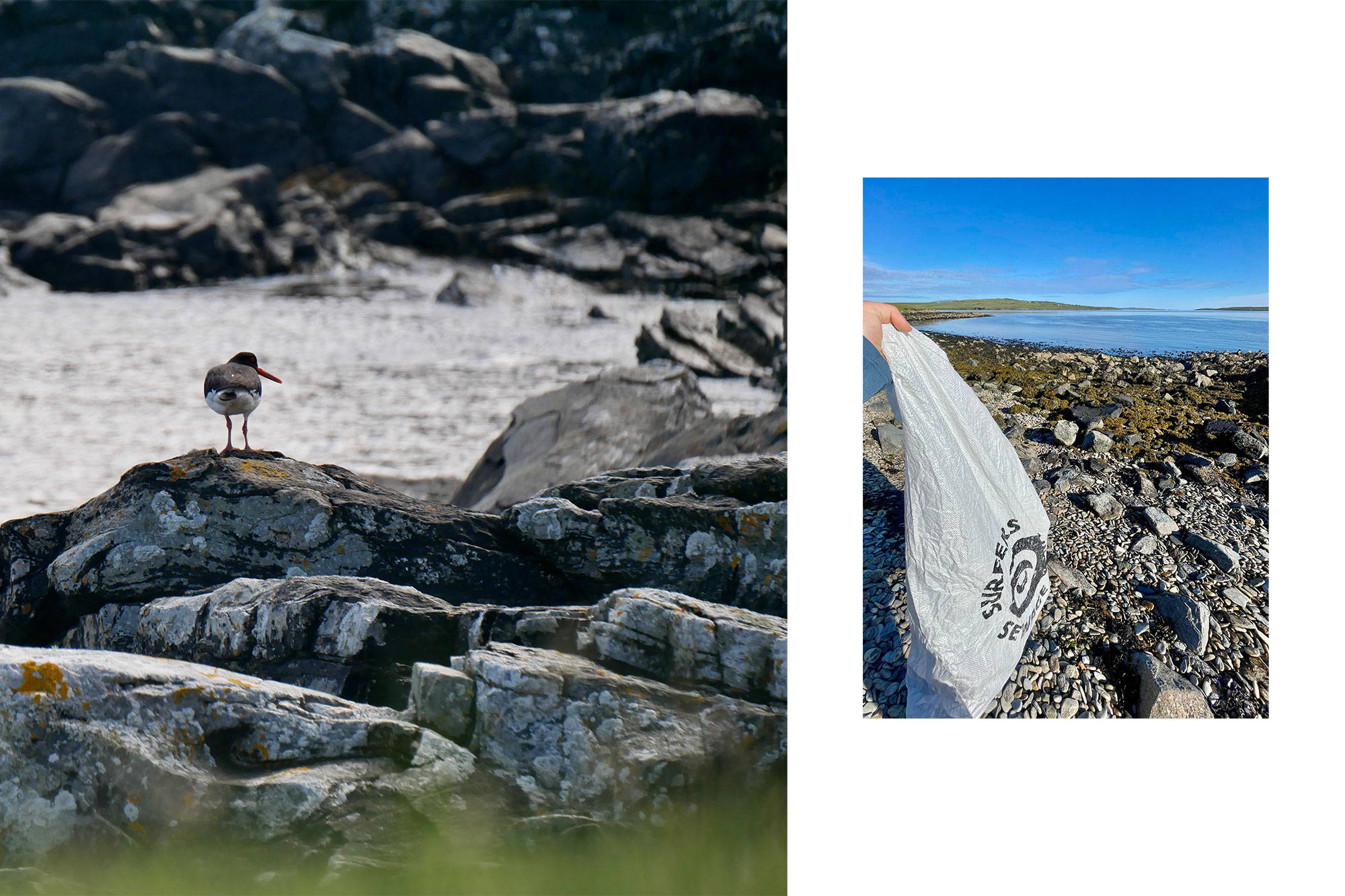 I awake shortly before we reach Lerwick harbour, situated on the eastern coast of the Shetland mainland. Over breakfast, I make plans to share the road with two fellow two-wheeled travellers. They plan to head north, whereas the novelty of the south is calling me. Once on land, we start to climb. They both share the excitement and anticipation that I felt last year, whilst I share with them my learnings and experiences from my previous north-bound journey. We part ways a few hours down the road; and then I am alone. On an island where you are never more than three miles from the sea, I soon make it to the west coast. I roll across a narrow bridge to Burra, where I break to watch the rising swells of the North Atlantic. Continuing my exploration of Burra's coastline, I pass by Meal and then Minna beach, where I am greeted by a friendly feline local (who I later learn goes by Buttons the Beach cat and is something of a local legend). I then head towards the headland of Kettla Ness. Perched high up on the cliffs, I watch a colony of fulmar, kittiwakes, and cormorants whilst the isle of Foula looms large on the horizon. Continuing my Kettla circumnavigation, I soon encounter another avian species – this one not so amenable to my being there. Three great skuas, or 'bonxies' as they're known locally, silently bombard me, dive-bombing to within inches of my head! After evading their territory as fast as I could on the soft, peaty ground I make my way back to the comforting company of Buttons and am joined by a few inquisitive seals.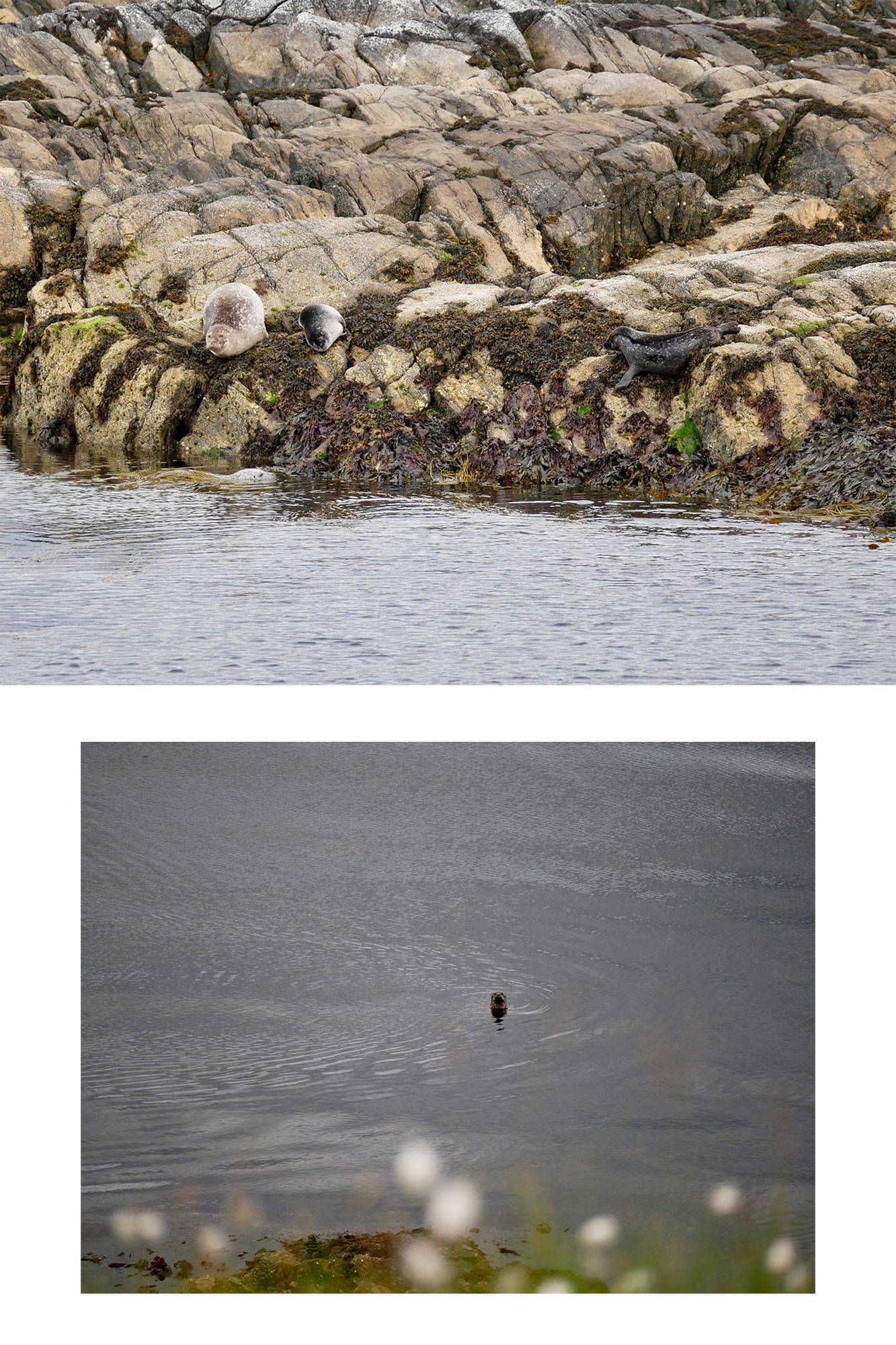 I recall the numerous aggressive encounters I had with Arctic terns last time I came to Shetland. At the time, I was ignorant of the fact that these beautiful, yet intimidating, birds were simply seeing me off as a potential threat to their nesting young. I suspect this is the reason for the skua's aggression too, so I make a point of keeping clear of these two species for the remainder of the week. This is their breeding ground, and their lives are tough enough as it is. The terns, or 'tirricks', for example have one of the longest migratory journeys of any animal, annually travelling between each polar region on a journey exceeding 30,000 miles! Coupled with the recent bird flu outbreak which saw the numbers of most Shetland seabird populations take a heavy hit, I reframe my initial response of fear to a more respectful and compassionate perspective. I leave the wild west in favour of a camp spot on the east coast, sheltered from the building north-westerlies and hit the sack.
Whilst breaking down camp the following morning, I admire a pair of fulmar, sharing the salty morning air with their distinctive tube noses. It is these noses that give them one of the strongest senses of smell amongst birds, and the ability to desalinate seawater so that they can drink. I continue my journey down along the east coast, with the mainland's most southerly point set as today's arbitrary destination. I stop to remove my binoculars from their handlebar-holster, and scan Mousa Sound – one of Shetland's more reliable spots to see cetaceans. Rain pulls in, so I keep moving. I opt for the more scenic road down the spine of the west coast, and cruise past bay after bay of white sand and clear water, with one eye on the empty road and one on the surface of the sheltered seas. Before long I am descending to Sumburgh airport. The road continues and cuts across the runway, before winding up to perhaps the island's most iconic headland. I am greeted by a large colony of seabirds. As another hotpot for sightings of passing whales and dolphins, I am in no hurry to leave. There's visible and audible excitement amongst fellow visitors when the puffins return to their nests, before dashing back out to the water to continue their feeding cycle. I chat bikes, gear and travel with a likeminded lover of all things two-wheeled. Once satisfied, I return to the road, now heading north. I break to watch a pod of grey seals on one of the bays I admired earlier in the day, as the setting sun slowly dips beneath the horizon.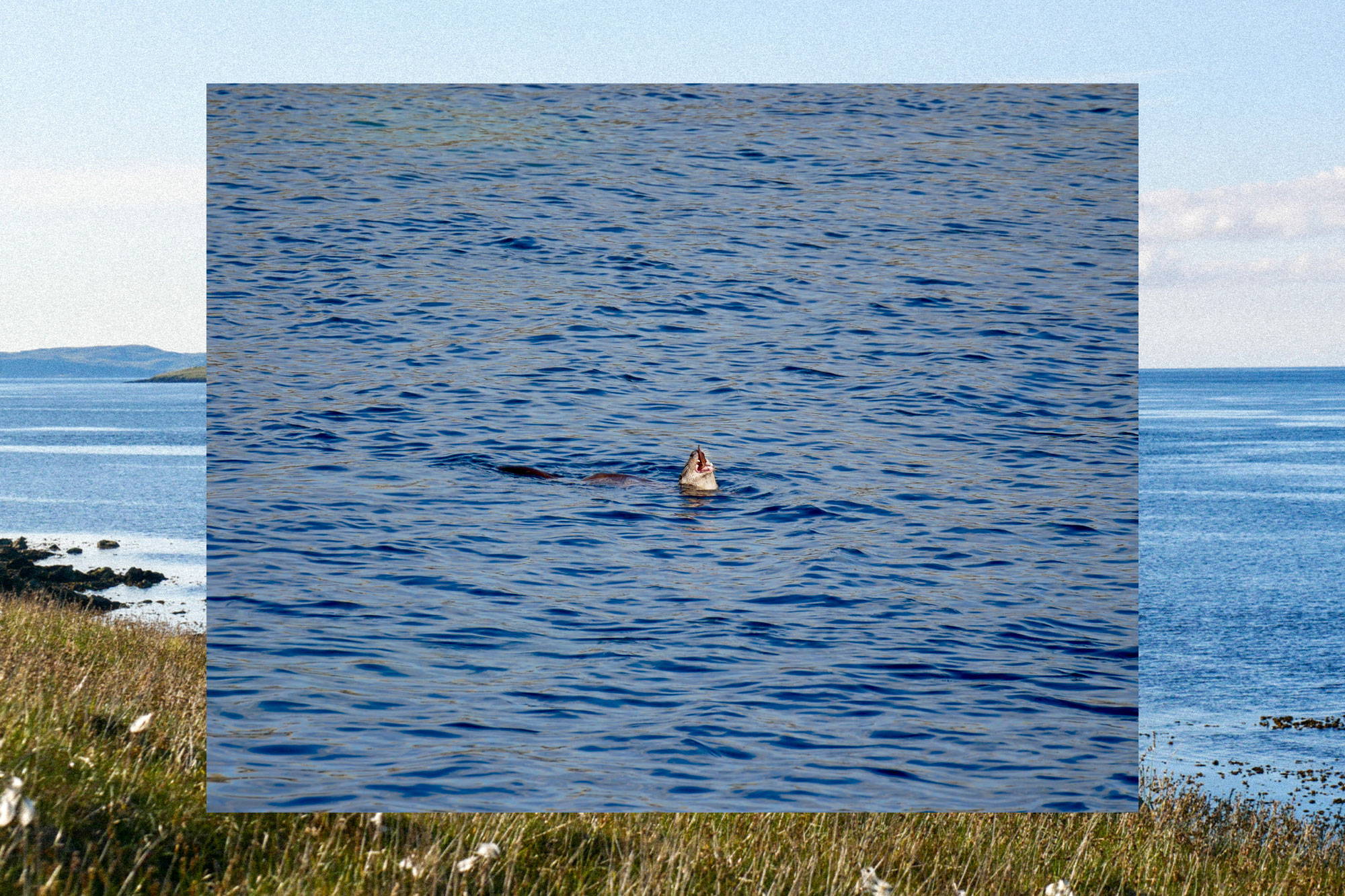 In the morning, I make an early start and cross St. Ninian's tombolo, taking some time to collect some rubbish from the otherwise pristine sands – a process slowed by the dual tide lines. As an aside, thank you to the Brighton branch of Surfers Against Sewage for providing the reusable beach clean bag – and continue the good work in the fight to keep our seas clean! I head back to Mousa Sound, as I felt like yesterday's visit had been cut short by the deteriorating weather. Today is a different story however, as the Scottish sun complements the calm waters. Seabirds aplenty, but otherwise the seas remain quiet. I decide to head to Yell Sound, at the other end of the mainland, where I had my good fortune last year. I pass Lerwick and retrace my steps from last time I visited these isles. As the sun begins to lower, I leave the road behind and follow the coast on foot. I break to rehydrate and hear a splash! A seal resurfaces a short while after, then another, and another. I watch as a family of five make the most of the calm summer conditions in a protected inlet. Chasing, barking and blowing bubbles at one another, I can't help but feel as though they are enjoying themselves. How would I feel if a pod of orca were to round the coastline and put an end to this serenity?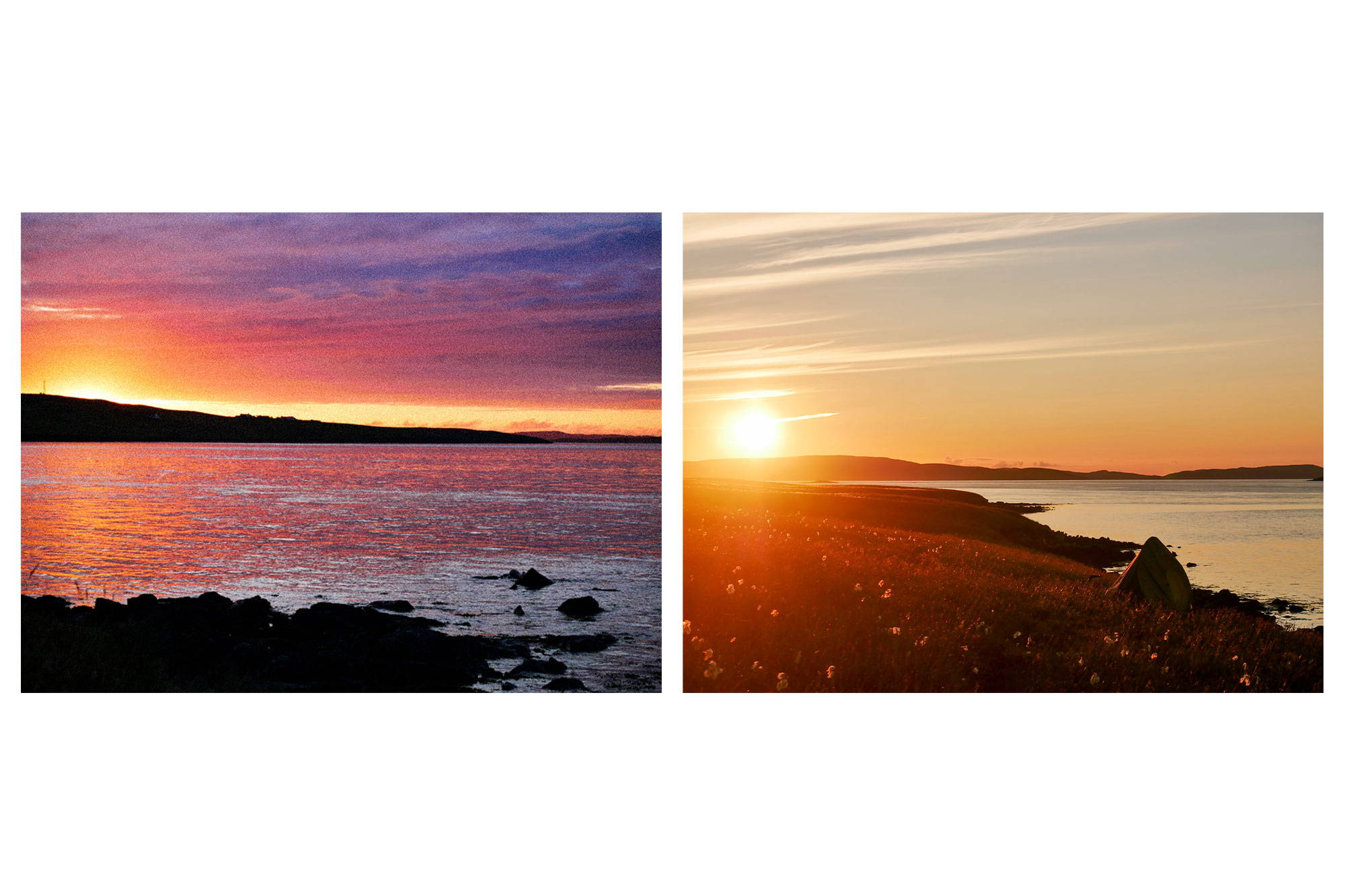 A midge-y, sweaty loch-side slog sees me continue my exploration of this peninsula the following morning. I hear of a minke whale sighting 10 miles or so up the coast via a WhatsApp group for local and visiting cetacean enthusiasts. This is both a great resource for anyone keen to see these amazing animals and a valuable research tool, using sightings from so-called 'citizen scientists' to build an understanding of the species visiting these waters. I feel a renewed sense of motivation as I get back on the pedals, energised by the prospect of a possible sighting. I head towards Lunna, an outcropping headland with good visibility in several directions. I take the road as far as it goes, before continuing on a short section of trail, then up and over a stile before continuing on foot. I spend the morning with my eyes glued to the water, scanning in a serpentine motion, whilst enjoying a simple breakfast. Another alert pops up on my phone – this time a mother and calf harbour porpoise, minutes away and heading in my direction! This convinces me to stay a while longer, despite the ever-changing weather. 30 minutes or so passes, before I grow restless and increasingly frustrated by the noisy fishing vessel that repeatedly passes by, and the sea farms obscuring my view. These things are an audible and visual nuisance to me; but to the species I am hoping to see, whose primary means of interacting with the world is through the sense of sound and who directly rely on healthy waters and marine ecosystems, these things present a significant threat. I wonder what other challenges this young calf will face throughout its life… I continue to make my way north throughout the day after this unsuccessful session. Later in the afternoon, however, I am rewarded by a brief 'blip' of a lone porpoise and an extended encounter with a hunting otter and a lounging group of seals.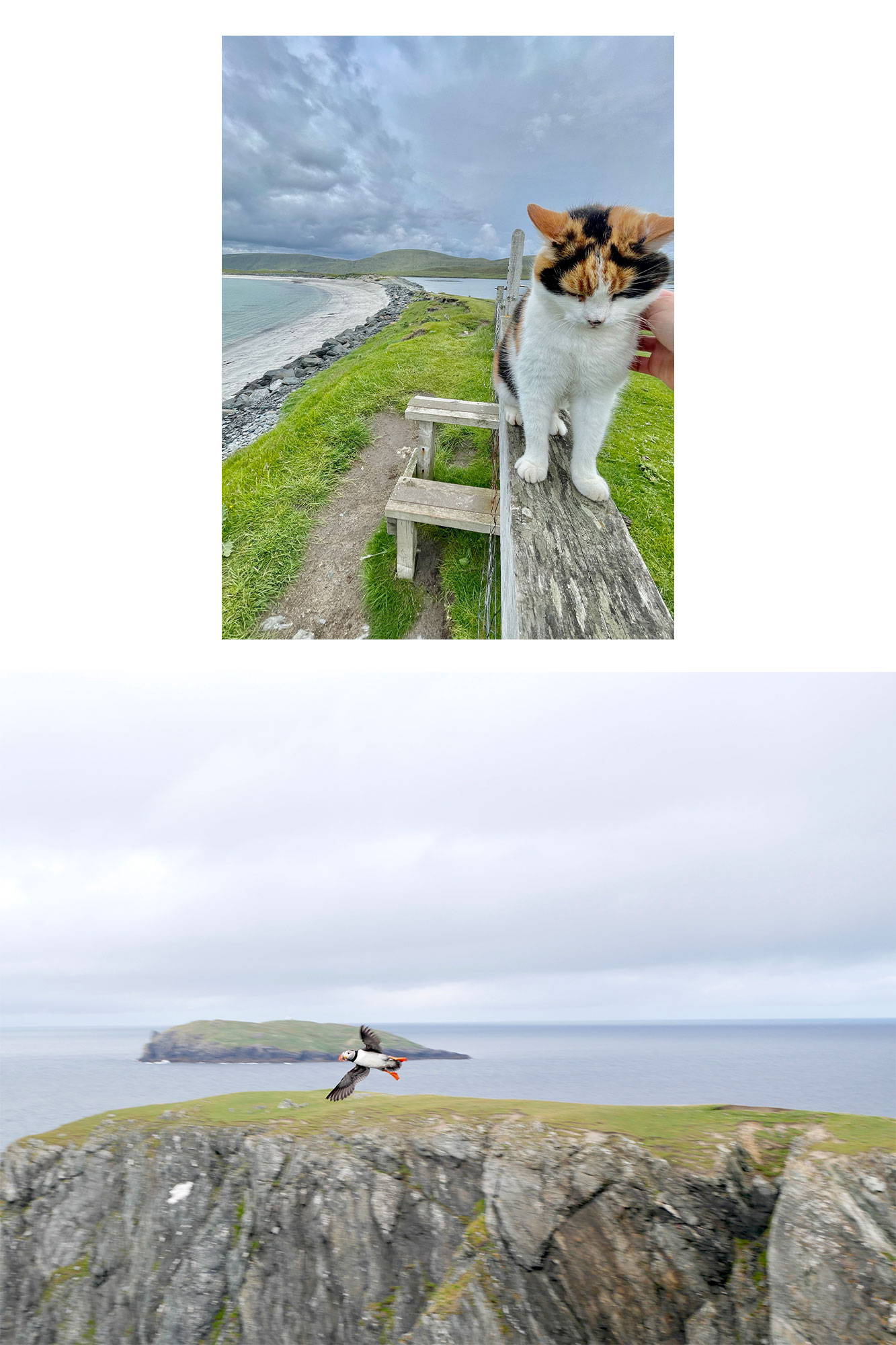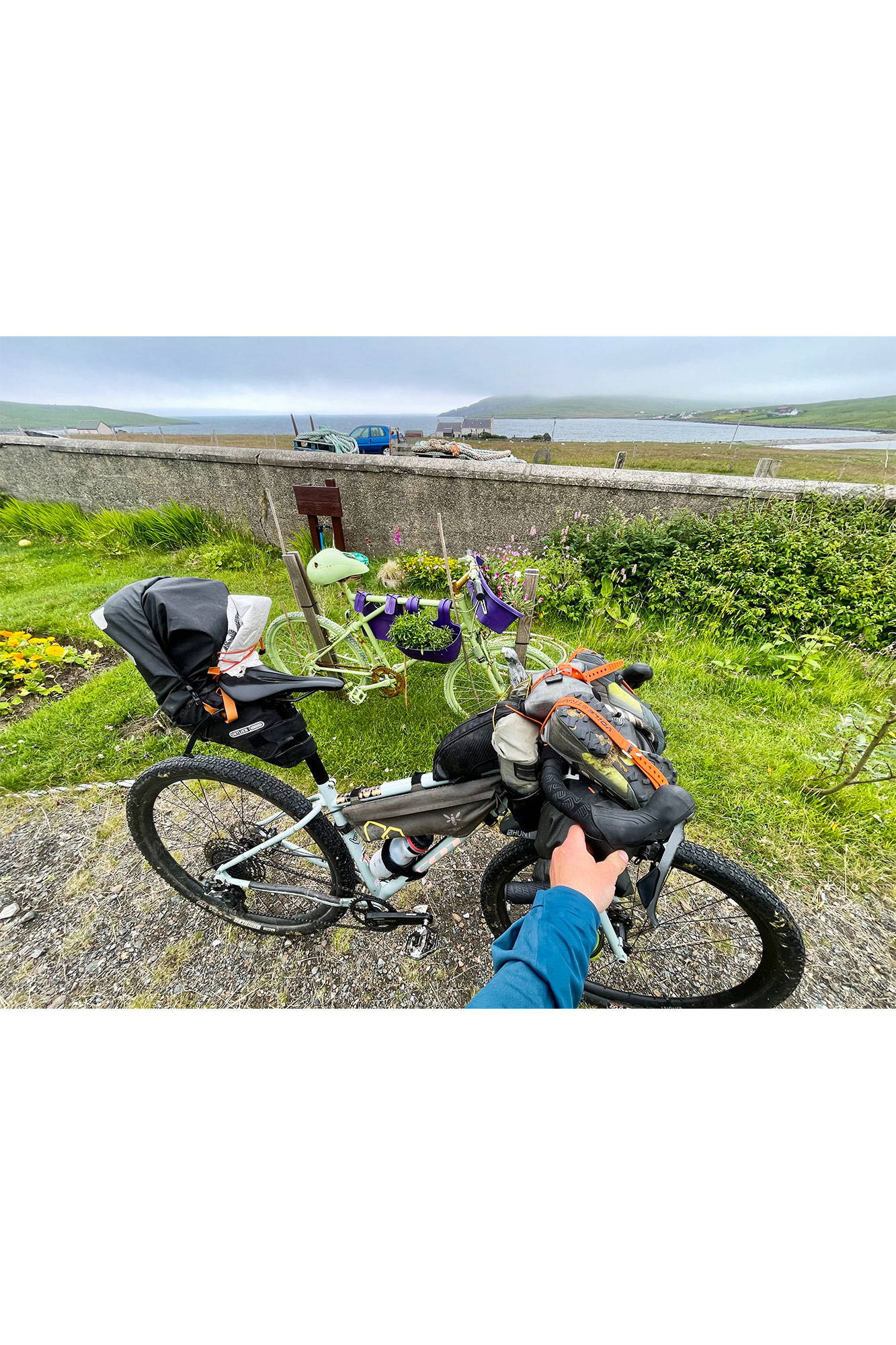 I start the following day with another beach clean, before speaking with a local who tells me about the highs and lows of calling this place home – the rugged, harsh year-round conditions, the isolation and the recent and ongoing installation of a highly-controversial wind farm. She puts my lack of seeing orca so far this week into perspective by stating that she's only seen them three times in 45 years! On her recommendation, I take the ferry to Yell, the second largest island in the archipelago. Again, I spend the day riding to coastal lookouts and keeping my eyes on the water. A fellow nature-lover points out an arctic skua harassing a group of guillemots. In the evening, after setting up camp back on the mainland, I again look through my binoculars over the now golden-orange water as I am treated to a beautiful extended sunset. "Pfft!" – I turn my head and see a fin. A pod of three porpoise proceed to move gently through the sound, no more than 20 metres from where I sit. With the water now clear of boats and no other artificial sounds within earshot, I can clearly hear their breathing as they take turns to surface. They stick around for 15 minutes or so, before slipping away into the late evening.
The next day begins with yet more contrasting weather as strong winds and heavy rain roll in. I take refuge in a bus stop, and snack on the local shop's finest selection of cereal bars – the vicissitudes of bikepacking, the vicissitudes of life. Craving comfort, I push on for a few more hours towards a café where I refuel and attempt to dry my gear. I overhear the excited conversations about a basking shark that was spotted close inshore the previous evening. Onwards to the impressive volcanic coastal formations of Eshaness, before slowly progressing towards the mainland's most northerly tip against the building breeze. I'm treated to an incredible section of gravel riding on a solitary track out towards the point of Fethaland. The afternoon is spent perched up on the high cliffs, surrounded by puffins and gannets, and yet more seals below. Back in the saddle, I let the now-tailwind call the shots for the final night of camping. I end up on a familiar stretch of road, which takes me up and over a small crest to a familiar stretch of coastline. I've been here before. This is where I had my encounter with the 27s last year, one of the orca pods of the semi-resident Northern Isles community. It seems like a fitting spot to spend the final evening, and I lean into the cyclical nature by pitching my tent on the same patch of grass on which I sat last time I was here. A pair of grey seals hug the shoreline below me and have a near-collision with an oncoming otter, as dozens of seabirds follow suit in the skies above – a kind of sea life super-highway. I watch the water late into the evening, reluctant to put an end to the final day, and eager to maximise my exposure to this window into the wild. A kind of nature-nourishment I find hard to replicate in the day-to-day. A short sleep later, I am back out on the clifftop, mindfully running my eyes over the water between each and every inlet and outlet in the sound. The building wind reminds me that unlike the preceding days, today I have a time-bound destination. The familiar freedom to have absolute agency over time, place and pace is nearing an end. I'm going to miss this way of life, in which the hierarchy of needs is clarified to the simple, tangible stuff and a true connection to natural energy flows – sun, wind, rain, salt – can be felt through pedal-powered movement.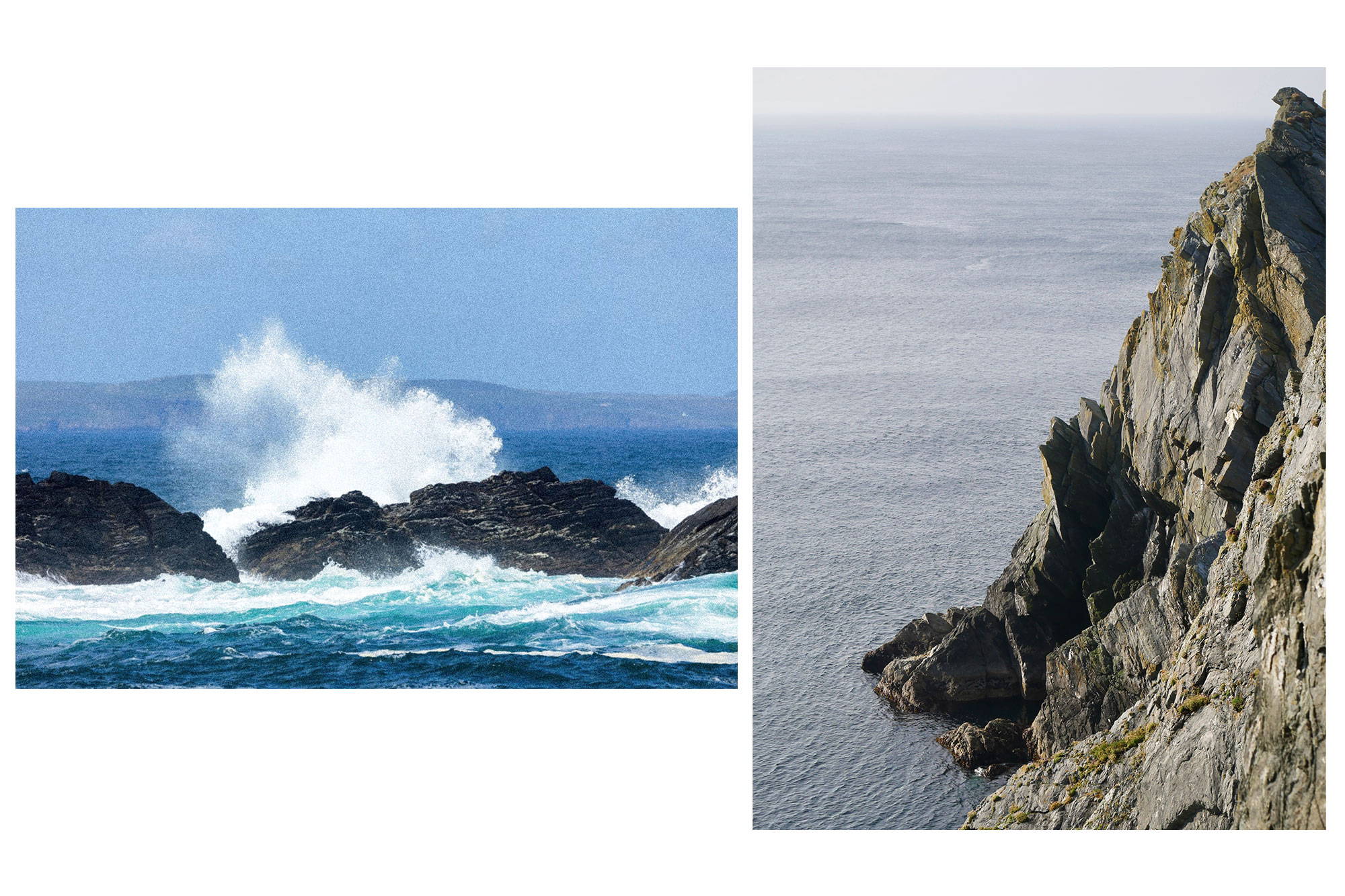 I reluctantly pack away my has-been home for the final time and start riding, taking glimpses of Yell Sound as it slips away behind my shoulders. A few hours in, the wind continues to slow my progress back towards Lerwick, and the mid-morning sun pulls me towards a final swim in a shallow, white sand bay. I am once again joined by a pair of inquisitive seals, and a gannet and tern take turns to fish in the clear waters. Back on the road, my mind wanders as my now-tired legs slowly continue my progression south. I move at a seemingly higher pace on the leeward climbs than I do on the exposed descents or flats. A forced slowing down, a forced reflection… I top-out on the final climb, and coast into Lerwick.
I eat lunch on the harbour wall, once again admiring the precision of the swooping terns as they continuously pluck sand eels from below the surface, a seemingly infinite larder. Even in town, surrounded by shops, cars and tourists, the wild is never far away. The artificial divide and distancing between man and nature is diminished in places like these. Wheels and whales, man and nature. Seemingly disparate and contrasting, but endlessly interconnected and two parts of the whole. A reminder and calling to seek balance and diversity in all things. To balance outward adventure with an inward search for place and purpose. To move not just for the sake of movement, but to use our time outside to grow an awareness that everything we do, consume, produce has an impact on the air, earth and waters that make up our shared home. And that now more than ever, we have a true burgeoning responsibility to live a cleaner today, and build a more connected, aware tomorrow.
The next day, once on the train south through mainland Scotland I am alerted to a number of orca sighted back in Shetland. The succeeding weeks are full of sightings of various pods and species, nearly tracing the exact route I had followed around the islands' coastlines! I curb a slight sense of frustration by reminding myself that there's no predicting or controlling nature, and my lack of seeing them this time only serves to keep the Wheels and Whales fire alive!