What better way is there to wake up the legs after a 16-hour van journey than a 3km Hillclimb race straight out of Girona? We had driven down a few days before the start of The Traka to allow for a little post travel recovery time, some gentle rides, and to acclimatise to the heat before the main event... so an uphill blast just 2 hours after stepping out of the van was a shock to the system.
Josh Ibbett and I had driven down from the UK where the temperature had barely been hitting double figures. Our guests, however, had less of an issue with climbing in the heat…  They came straight from their homeland of Rwanda, known as the land of a thousand hills, where the climate is warm, and the mountains are high.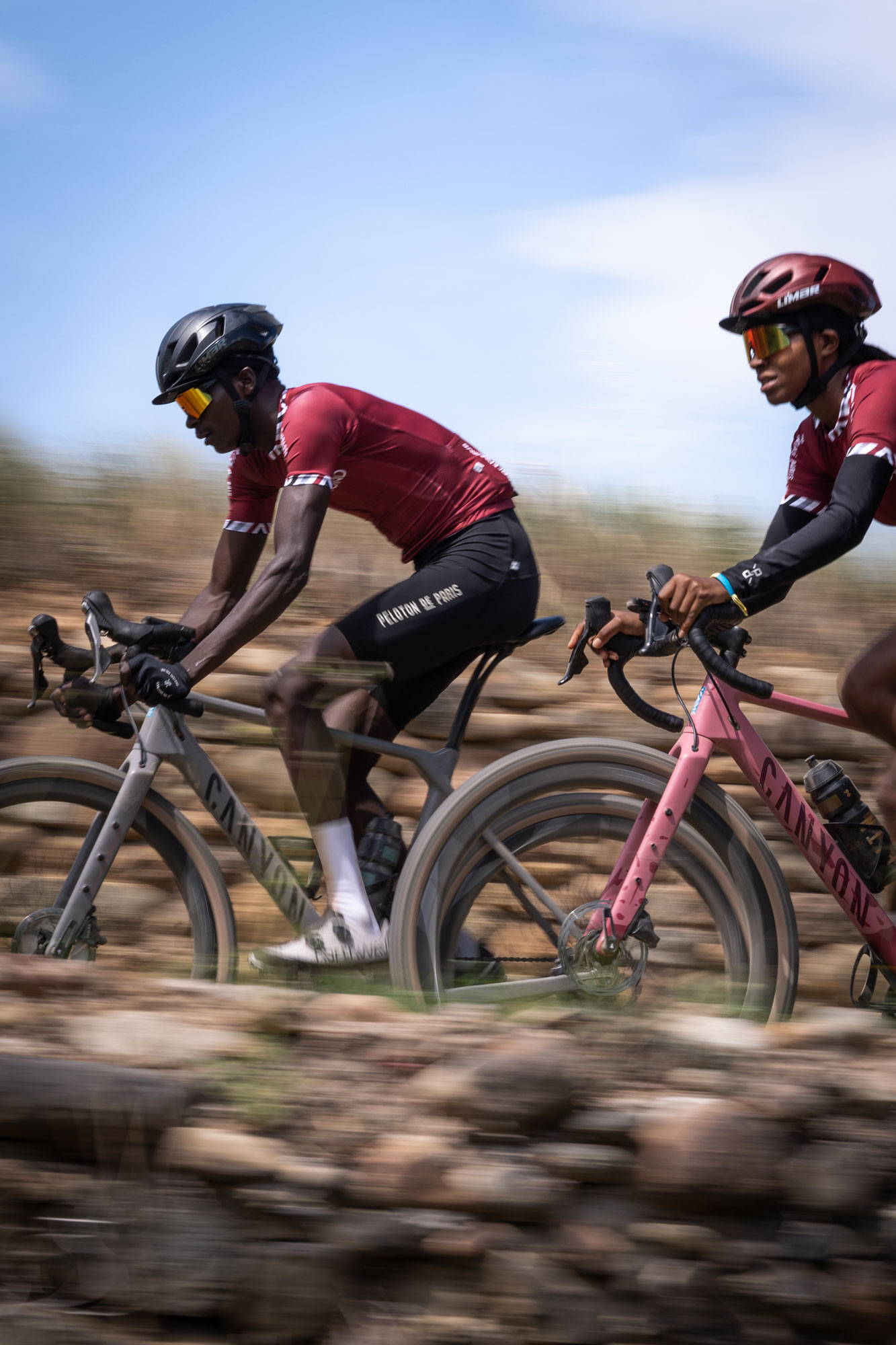 Josh (HUNT Beyond Brand Manager and rider) met Rwanda Beyond founder, Simon De Schutter, when taking part in Bikingman Oman in 2019, and then again at the inaugural Race Around Rwanda in 2020. Upon hearing about Simon's plans, HUNT offered to partner the team supplying wheels for the bikes as well as helping to bring them to Europe to race. After delays due to Covid, it's only now this has been possible. Although there is a strong road racing scene in Rwanda, gravel is still a new discipline, with very little backing or support for promising riders.
"It all started by organising events. First Race Around Rwanda, and then more and more off-road cycling events in Rwanda. We soon realised that while Rwanda might be a cycling nation, it's fully focused on road cycling. Our initial goal was to get some gravel bikes to Rwanda. Then we also got some wheels through HUNT, clothing though Peloton de Paris, helmets through Limar and Shoes through Northwave.
But unlike road cycling, gravel and ultra-endurance bike racing is still an amateur sport. What we now want to do with Rwanda Beyond is offer Rwandans with passion for cycling but who for any reason no longer (or never have been) trying to become a pro road rider, the opportunity to ride, join events… just as a European amateur would, while also inspiring young Rwandan riders. One main goal is to prove that you can combine studying and building a career with cycling on a decent level. So, Violette is in her final year of a Tourism Management degree, and Innocent is training to become a bike mechanic (which fits this perfectly). They are real ambassadors in Rwanda, and beyond".
We collected Beyond team riders Innocent Niyereba and Violette Neza from Paris airport for the long drive down to Girona. Sadly, a third, Jean, missed the trip as his visa wasn't issued in time. Initially they were both quiet, tired from an already long day and nervous about their first European trip… but once we stopped to find a room for the night, Violette opened up to me about her life, love of cycling and dreams for the future.
Her passion for cycling begun at 14 where she started training at her high school. By 18 she was already part of the national team. She made the difficult decision to drop out of her team when she was told she had to choose between racing and her education. I could tell this was an extremely driven and intelligent young woman, and so to have turned down an opportunity to do something she loves full-time must have been a tough decision. From this point on, she had to split her time between riding and working to fund her university education. She is studying travel and tourism, and works multiple jobs including sharing her passion as a cycle tour guide. She's a strong rider, too. Despite her limited time to train, she won the Race around Rwanda and Gorilla Gravel events. She is the only female rider in the Rwanda Beyond team and although she is hugely focussed and highly competitive, she is also passionate about sharing her love of cycling, especially with other women. At home she runs the Neza Empowering Women Cycling Hub, where she coaches a team of ten young girls, and is also part of the Fanta Citron Squad which has a total of 48 women, both Rwandan and international, who meet to ride together. This trip to Girona for The Traka will be her first competitive event in Europe. For her, coming to Europe is an opportunity to push herself against a strong international field of riders, racing at a level higher than she ever has before.
It's not just Violette who uses her talents to help others. Innocent grew up in a cycling family, and knew he was destined to become a cyclist. Like Violette. he joined the Rwandan national team when he was young, but now spends his time training with the Beyond team and coaching the Bugesera women's team, whilst also training to become a mechanic.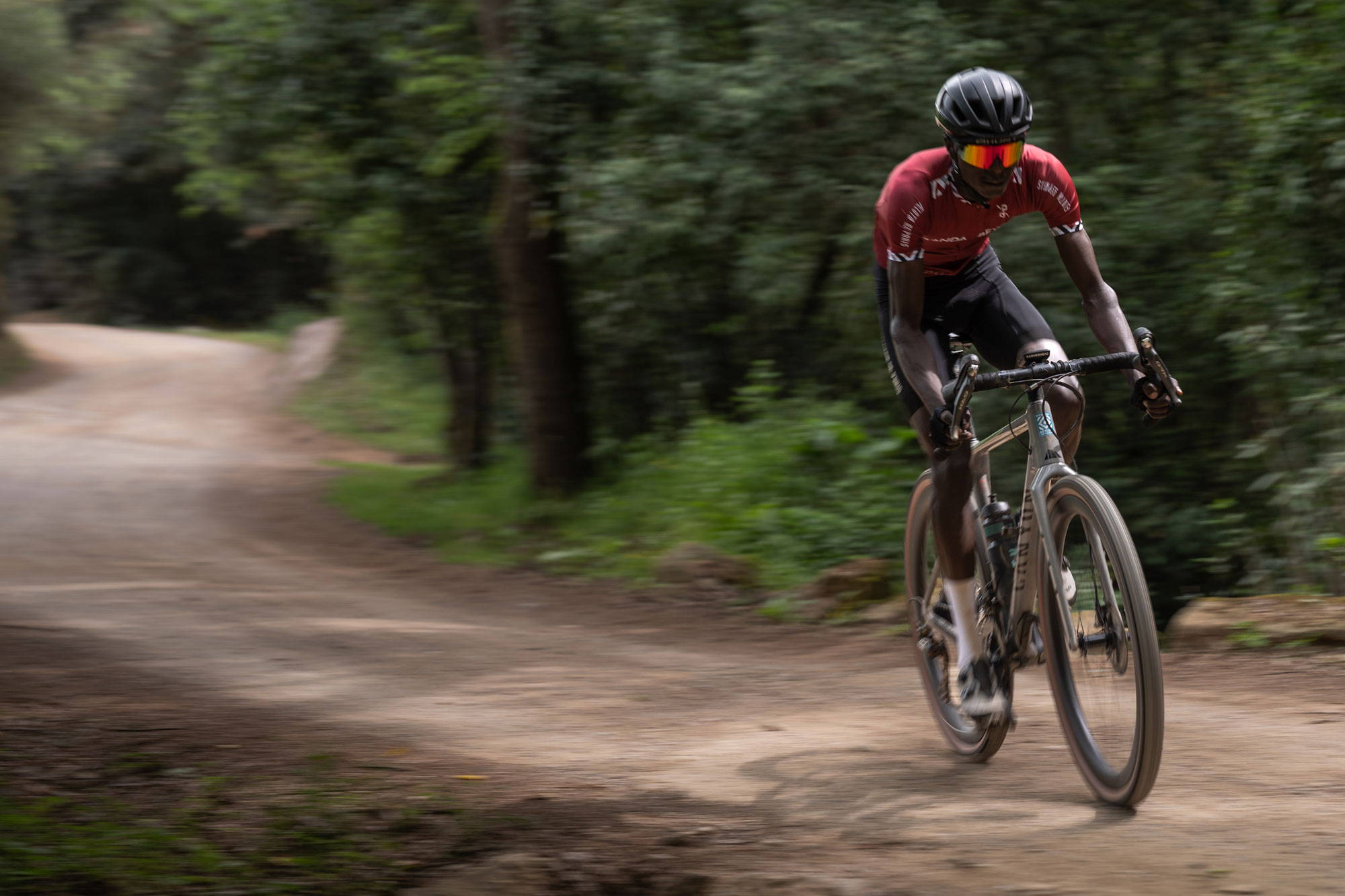 After a couple of days of gentle riding, socialising, and soaking up the atmosphere, the main event came around. At 6am, Josh left to take on the 360km route, so it was down to me to make sure Innocent and Violette were set up at the start line, happy and ready to race. I was expecting the 700-strong field to be overwhelming for them, but I needn't have worried. Whilst many of the European riders looked nervous and anxious the Rwandans were loving the atmosphere. Violette was so relaxed that she was dancing to the music coming out over the speakers. Innocent was beaming from ear to ear in anticipation of the competition and climbs that awaited him. I ask how he's feeling… "I'm ready to win".
As the race began and the Rwanda Beyond teammates crossed the start line, I felt a lump in my throat and a tear rolled down my cheek. Hundreds of riders had travelled to get here, but for two of them that journey had begun so much earlier. It had been such a long voyage to get to this point, not only in terms the physical journey from Africa but in the difficult decision to leave their National Team to commit to education, finding support and financial backing to continue their cycling, facing visa issues, difficult logistics, delays and the culture shock of arriving in a city where being a pro cyclist is commonplace.
It had been a long wait for them, and they had a point to prove. It's an opportunity that means so much more to them than to most of the European riders here, and it's been an honour to be just a tiny part of that.