Gail Browns' debut
Tour Divide

On the 9th of June 2023, Hunt Beyond rider Gail Brown started The 2023 Tour Divide. With this being her first attempt at the 2700 mile off road route, it was crucial to have her preparation in the run up to the race go well. Sadly, Gail had a rocky start when she was hit with a nasty chest infection early on in the race and it looked like it could all be over for her. Despite this, in a miraculous turnaround she finished the route with a sprint finish and a spot on the podium in the Womens race. She would eventually finish in 5th place with a time of 18 days, 11 hours and 31 minutes, only 17 minutes behind 3rd place rider Hannah Simon. The Womens race was won by Tour Divide veteran Lael Wilcox in just 16 days and 20 hours.
We caught up with Gail to hear about the experience.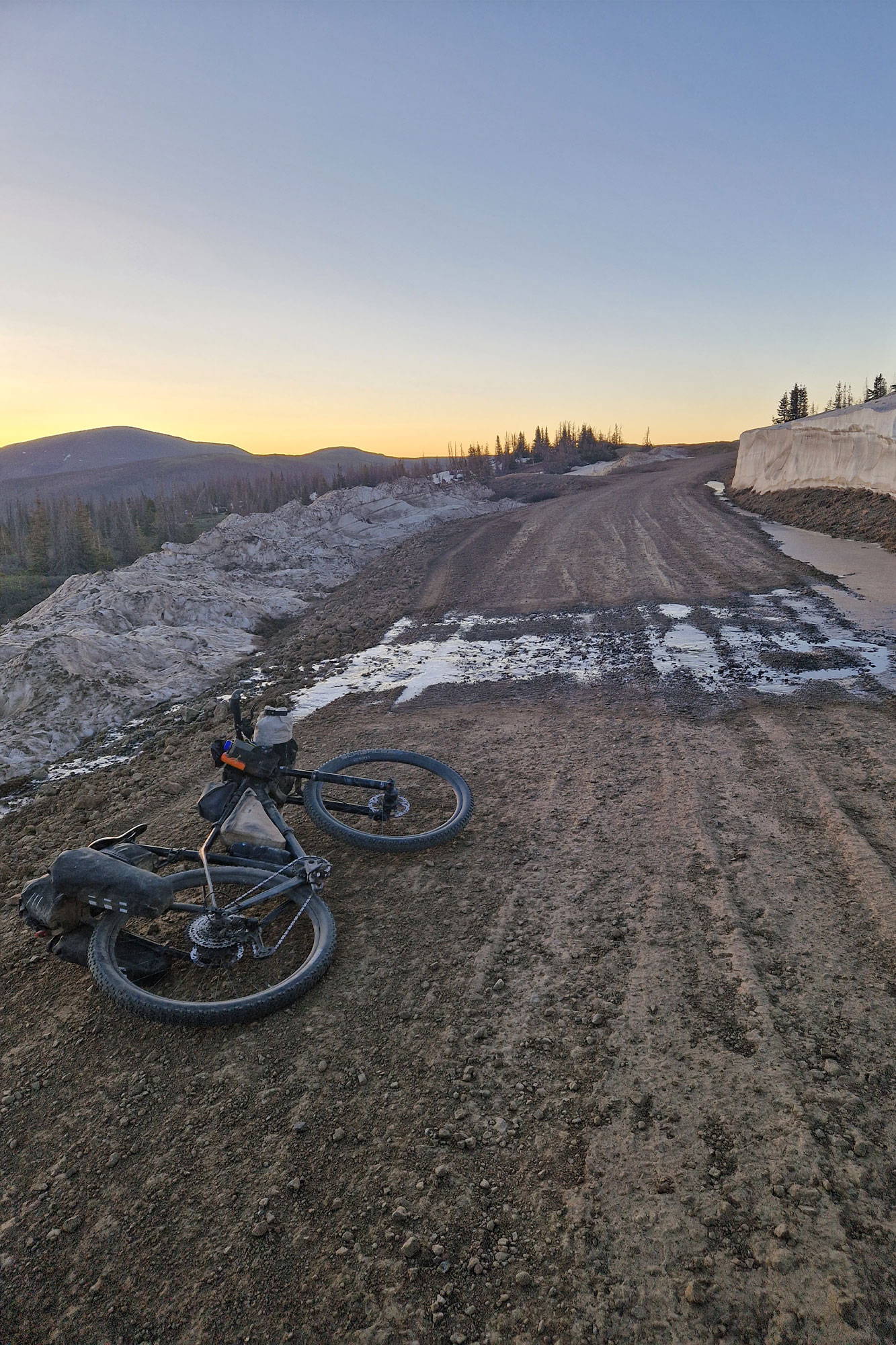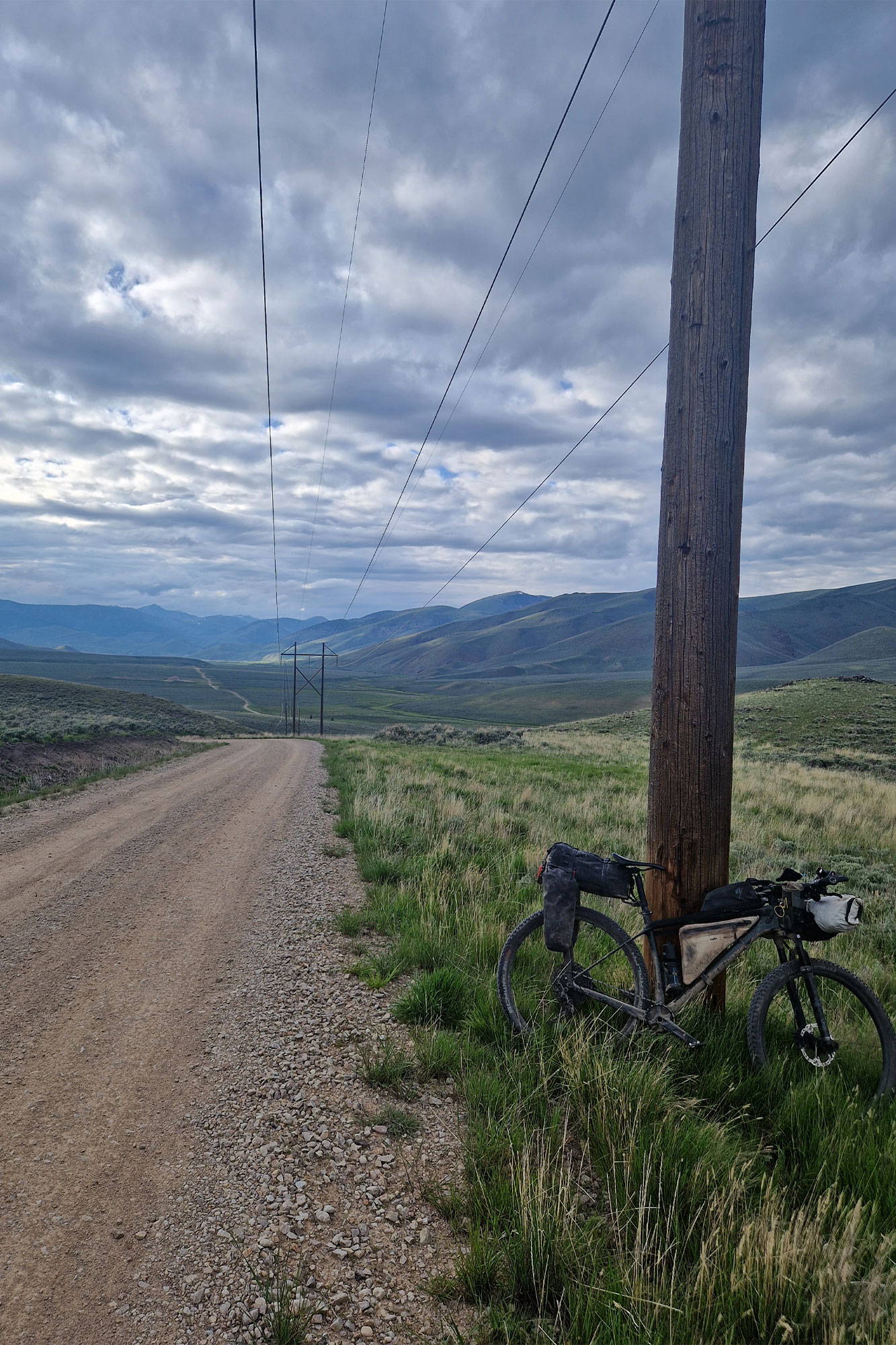 So Gail, firstly congratulations on your result, we are all so proud to have supported you through your first Tour Divide. Watching you make up time later on in the race made for a nail-biting final day, how did the race go for you? What were the high and low points? 
Thanks so much, it was a wild first ride of the Divide. The race didn't start as I'd hoped, I was nervous and made some silly mistakes. I also developed a really chesty cough over the first week. It's hard to know whether it was something I picked up on the flight to Calgary, the altitude or the pollen and dust filled air - perhaps all of it contributed. But I was really not feeling my best, finding it difficult to breathe and coughing up lots of green phlegm.
So my lowest points were where I was struggling to rationalise what I was doing. I've never raced feeling unwell before, it was hard to know if I was pushing too hard, whether persisting was stupid, whether I was being unsafe. The coughing also made it hard to talk, this surprisingly made me feel really lonely at the start of the race. I wasn't able to engage with other riders like I normally would, it made me realise that interaction with people is a huge part of racing for me. It also made me truly appreciate my ability to breathe, for so many people it's their day to day reality.
Along with the worry of doing myself harm, I also had the challenge of managing expectations. There was definitely some frustration at having put in so much effort to training and preparation, to have the race be going in a completely different direction to what I'd imagined. However I always try to make the best of any situation and it wasn't lost on me that it was still a huge privilege to be there. I decided to give myself permission to slow down. I took a recovery day into Helena, prioritising eating well, sleeping well and hit reset. The next day I utilised the excellent bike shop, had a coffee with some of the local cycling community and took things easy over to Butte. Over the next few days I trod the tightrope of striving/recovery, trying to balance the racer in me that wanted to push on with the healthcare practitioner that wanted to take things steady. There were definitely days where I pushed it too far and then felt it the next day, but overall I could feel I was getting better.
"...there were lightning strikes, dust twisters and insane headwinds - it was all very dramatic"

I think the crux of my comeback and also a huge highlight was the Basin in Wyoming. I'd been really scared about crossing it. Remote, vast and prone to mud and wild winds it was a daunting prospect. As I left Atlantic City the weather was changing, a front was blasting through and it really felt like I was surfing right on the crest of a weather wave. There were some really heavy showers and absolutely mad cross winds but after a few hours just before the path disappeared, I got shot out into sunshine. This was undoubtedly one of the high points of the race for me. To have been so worried about getting stuck in there for days and then be rewarded with sunshine and favourable wind was amazing. I felt motivated again, my breathing was improving and I felt physically so strong. The next day there were some seriously strong headwinds but growing up in Cambridge, I'm no stranger to getting battered by the wind. I was able to catch up with some other women at Brush Mountain Lodge which was such a special experience. 
Other high points include some of the big passes in Colorado which I hit very early in the morning, they were absolutely stunning. Then also my chase for 3rd into the finish. That was absolutely awesome, coming into Silver City I could see I wasn't too far back and I gave it everything I had left - over 100mile time trial into some outrageous weather. By the end it was a full on storm that I was cycling hard into, there were lightning strikes, dust twisters and insanely strong headwinds - it was all very dramatic. To feel that strong after the start I'd had was really quite something.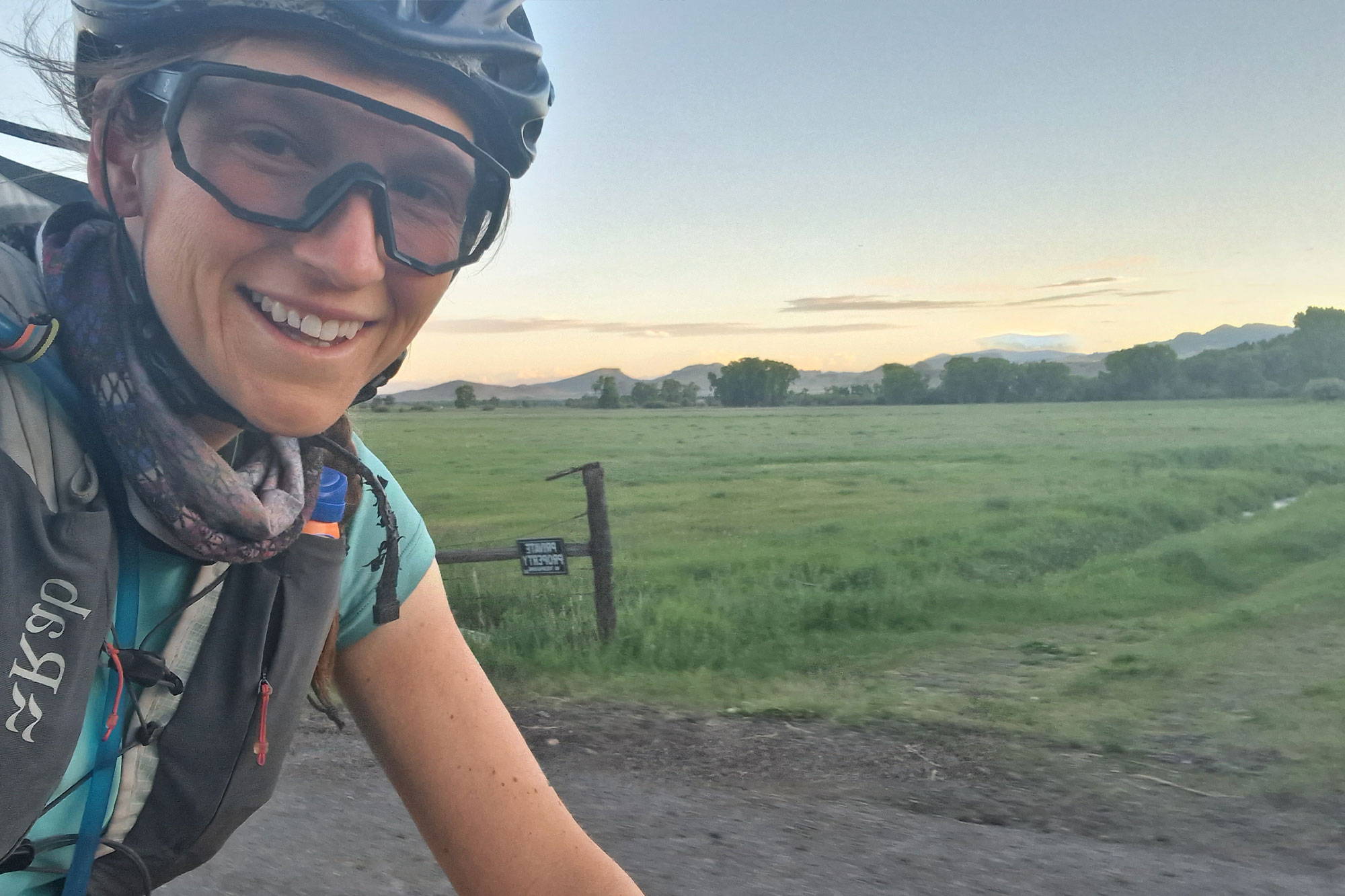 I see that your target for the race was 19 days, even with your health issues early on in the ride you came in under this time, how much more do you think you could have knocked off of that had you been in peak condition throughout?  
I'm so happy with my overall time for the race, to be honest my first aim was just to finish at all. It's so hard to say whether I'd have been significantly faster if I'd not fallen ill. If I'd been faster in the first half of the race I wouldn't have had such good weather, I'm not sure how I would have faired in the mud! I also think I was very motivated in the second half by the chase, I wonder whether that fire would have burned so strongly if everything had been going to plan from the start. I guess we'll never know. 
What was your favourite section of the route? And any parts you struggled with? I understand those endless washboard gravel roads can be pretty tiresome.
I think my absolute favourite section was Indiana pass out of Colorado. I climbed a few hours in the evening and the night was very warm and calm. I slept for a couple of hours on the lower slopes, I didn't need my tent and I lay under a blanket of stars. Then in the morning as I was climbing I was treated to the most amazing sunrise, it was beyond beautiful up there. Then I dropped down to Sky Line Lodge in Platoro and had a huge apple cobbler and coffee for breakfast, it was a very good start to the day.  
In terms of difficult sections, I felt relieved to have not had to cope with too much peanut butter mud, that stuff is absolutely mad. I've never experienced it before but it's truly impossible to cycle in and the small sections I moved through before Fernie and Lava Mountain Lodge were quite enough. It's been promoted to my least favourite cycling surface.  
By the end of New Mexico I was done with thick gravel washboard, it's pretty hard to find a good line on it and I found myself constantly crossing over to see if it was better on the other side but usually finding that it was just as bad! I was very relieved to get onto the tarmac at the end. 
How was your setup? Is there anything you would have changed in regard to bike or kit choices?  
In terms of setup I was so impressed by how everything held up. My wheels were flawless, durable but fast! The dynamo hub worked well, I couldn't have done the ride without it. I rode a Scott Scale hardtail and in my opinion it's the perfect bike as it's light and racey but also very comfortable. I don't know how people do the route without suspension forks, I was very glad of mine. I have no injuries and absolutely no nerve palsy in my hands and I think that's down to my ugly Ergon grips, TT bars and the suspension.  
The highlight of my bags was a prototype Tailfin bag that allowed me to store snacks within easy reach. I could constantly graze on trail mix, bars and salty snacks and then I could also stash bigger snacks in there which I've not been able to do before, things like burritos and sandwiches. Having used the front pannier system in AMR in February, it made such a difference to be able to easily access food and eat on the move.  
In terms of changes, I think I'd use a more durable rear tyre - I used a Schwalbe Racing Ralph and I had to change it halfway due to wear and I'd started to get a few punctures. I'd also try and optimise my TT bar set up, with all the washboard and rough stuff they kept loosening and moving.
I'm guessing you're pretty tired now, do you have any plans for the next few days? And what is your routine for recovery after riding ultra races?  
I was lucky enough to be helped by Jeff Sharp at his Ranch, what a place! Then I had somewhere to stay in Phoenix and I had 2 nights there, sleeping and eating. I'm now back home and real life has to start again. Normally I try to not book too much in after races to give me some recovery time. For this race I actually feel physically pretty good, no injuries to rehab which is great. I'm already back on the bike as a mode of transport and that's feeling fine. However I'd be a fool to think I was recovered after only a week. Due to the length and the willpower it took to push on in the second half I think I'm more fatigued than normal and so over the next few weeks I'm not going to do any structured training, just ride for joy and do the odd yoga flow or mobility session. 
How about plans for the future, what do you have lined up for the rest of 2023? And do you think you'll ever be back for another go at The Tour Divide?
In terms of the rest of the summer, I don't have any more races planned. I'm doing a cycling trip in October, guiding the Iberian Divide with my friend Fi and her cycling company. I'm going to enjoy the feeling of contentment of finishing Tour Divide for a while before considering what's next.  
Would I ever do it again? Absolutely! But it might take a while for my bank balance to recover...